Models HS-101 and HS-111
---
Amerex's model HS-111 is a versatile, compact hybridization oven that also functions as an incubator shaker. It incorporates a microprocessor temperature controller that together with a large and quiet circulating fan, assure uniform and precise temperature control. The large 12.5" x 14.8" double-pane glass window enables one to clearly and easily observe the inside of the entire stainless steel chamber.
The rotisserie can accommodate eight or sixteen 40-mm tubes, depending on their length. It also can accommodate 50-mL, 15-mL, 1.5-mL and 2.0-mL tubes using appropriate accessory clips. A special micro tube rotisserie that can accommodate 96 x 1.5/2.0-mL tubes is also available (For a photo please click the accessories link below).
The HS-111 increases the versatility of a hybridization oven by incorporating a platform for shaking Erlenmeyer flasks up to 250mL. By removing the rotisserie from the chamber - and this can be done in seconds - the platform can accommodate a 6-liter flask. The platform can also be used for slowly shaking a tray used in wash procedures, and is more convenient than removing the rotisserie and replacing it with a rocker attachment. A unique, dynamically-balanced triple eccentric drive provides smooth and quiet shaking up to 300 RPM, making the HS-111 a true incubator shaker for bacteria or cell culture.
The HS-101 is similar to the HS-111, except that it does not incorporate a shaking platform.
For hybridization oven accessories, click here.
Hybridization Ovens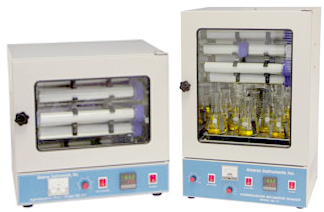 Models HS-101 and HS-111 Specifications