IncuMax™ CV80, CV150 and CV250
---
IncuMax™ CV80, CV150 and CV250 forced convection ovens from Amerex, feature a microprocessor temperature controller with simultaneous displays of the set temperature (up to 250°C) and oven temperature. In addition, a drying time up to 99 hours and 59 minutes can be programmed. A two-speed fan provides forced convection for uniform temperature distribution and rapid heat recovery throughout the stainless steel chamber. An adjustable air exhaust, which can be fully closed to fully open, is provided to control the rate of drying, baking or curing.
The control panel is conveniently located at the top of the oven. The door is latched when closed. A heat-resistant silicone rubber provides a durable and effective seal. Two adjustable shelves are supplied with the CV80 and CV150 and three with the CV250.
IncuMax is a trademark of Amerex Instruments, Inc.
For convection oven accessories, click here.
Forced Convection Ovens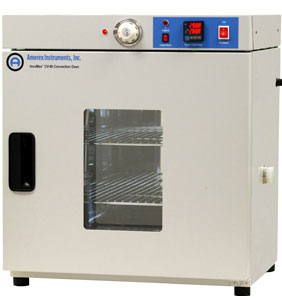 IncuMax™ CV80, CV150 and CV250 Specifications