HVE-50
---
Space-saving design with lid opening upward.
Agar sterilization mode for sterilizing agar and then automatically maintaining it at liquid temperature.
Dual-sensing lid interlock prevents lid opening when chamber is pressurized or when temperature exceeds 97°C.
Agar melting mode for melting agar and maintaining it at liquid temperature, or for a hot, faster start-up.
One-touch lever to easily open and close chamber lid.
In-process display shows the status and the progress of sterilization cycle.
Door-closure sensor provides a prompt and the cycle will not start unless the door is closed properly.
HVE-50 size: 50 liters, 11.8" D, 28.0"H.
For autoclave accessories, click here.
Self-Contained, Portable, Top-Loading Autoclaves with Auto Exhaust and Warming Cycles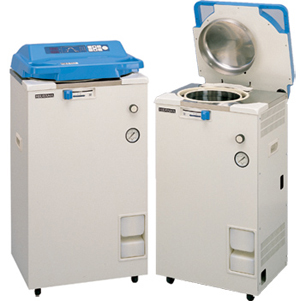 Control Panel