HG-50, HG-80, HG-113 and HG-133
---
The HG-Series include 4 models with innovative features and functions. The chamber diameter of the HG-50 and HG-80 is 14.3" (36.4 cm) while the chamber diameter of the larger HG-113 and HG-133 is 19.7" (50.0 cm). Features and functions include the following:
Automatic Lid Opening Button replaces a foot pedal.
Automatic Lid Closing Button closes lid conveniently and safely.
Safety Interlock senses pressure and temperature and prevents lid from opening during a cycle, when the chamber is pressurized, and when the high temperature can cause boil over.
Programmable Auto-Start for running a cycle from 1 to 99 hours later.
Large (15 liters) / Efficient Steam Condenser ensures no steam exhausts into the lab. The HG-113 and HG-133 incorporate a radiator for this.
Over-Flow Lamp indicates that the drain bottle is full and ready to be emptied.
Built-in Cooling Fan for faster post-sterilization cooling and shorter completion time.
Selectable Rate of steam venting after sterilization.
Programmable Time for air removal before sterilization.
Twelve Programs Cycles can be stored.
Large Control and Display Panel improves functionality and shows the progress of the sterilization cycle.
For autoclave accessories, click here.
Hirayama HG-Series Autoclaves with an Innovative Feature...Just Press a Button to Automatically Open the Lid, or Close and Lock It.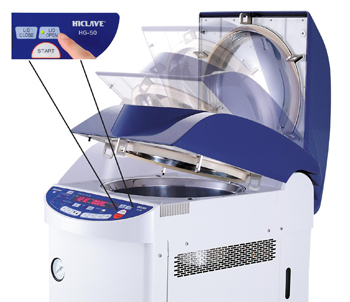 Control Panel