Autoclave and Sterilizers Accessories
---
Three different types of stainless steel containers of different heights (large, medium and small) are available for handling different loads. Stacking shorter containers can increase load capacity (two medium-sized and three small-sized containers can fit in a given chamber). A mesh wire basket is suitable for most loads, including glassware and media. A pail or a mesh wire basket with a solid bottom is used for agar and to contain potential spillage from a torn biohazard bag. A drum has a hinged lid with a handle. Depending on the load, it serves as a closed (but not watertight) trash container or as a carrying and storage case. The side and bottom of the drum are perforated for better steam penetration during sterilization. Sliding panels cover these perforations prior to and after sterilization. Round stainless steel tube racks, for tubes up to 13mm, 20mm and 25mm tubes, are also available. You can stack tube racks by putting them inside stacked containers.
Optional accessories also available a) digital printer, b) data logger and c) floating/load sensor that monitors the load temperature and sterilization timer is only activated when load temperature reaches the set temperature.
For more information or pricing, please contact Amerex at marketing@amerexinst.com.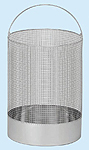 Tall Basket with Solid Bottom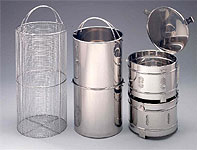 Stacking Baskets, Pails and Drums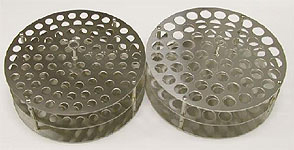 Tube Racks for Ninety 13-mm and Sixty 20-mm Tubes

Stacking basket and pail combination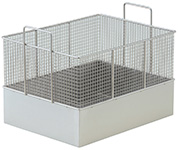 Rectangular basket with solid bottom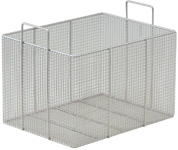 Rectangular basket