GYROMAX™ 787 and 787R
---
The GYROMAX™ 787/787R orbital incubator features a microprocessor temperature controller, double-walled construction and a 1.5" thick and a double-paned glass window to minimize heat loss. This construction, together with an efficient circulation system, ensures unrivaled optimum temperature uniformity throughout the chamber. The window has an opaque sliding panel to block light from enter the chamber for applications involving light-sensitive materials. The temperature is set digitally and reproducibly and displayed by an LED to 0.1°C. The working temperature range for the 787 is from 5°C above ambient to 70°C for the 787 and 4°C to 70°C for the 787R. An over-temperature cutoff device prevents accidental overheating.
A large, quiet fan ensures air and temperature uniformity throughout the stainless steel chamber. A brushless, maintenance-free drive motor generates speeds from 25 to 400 RPM which are displayed digitally. A fan cools the motor so that it operates at a lower temperature, thereby prolonging its life. A dynamically triple-eccentric drive with counter-balancing weights provides smooth and quiet shaking and there is no need for adjustments as the load or RPM changes.
The shaking stops when the door is opened and resumes when it is closed again. The chamber is constructed of stainless steel and comes with a shelf. The 18.1" x 18.1" platform can accommodate Erlenmeyer flasks up to 4 liters.
Optional accessories include shelves (if two or more are needed), platforms, clamps, and spring racks. The spring rack is designed for holding tubes in a horizontal, angled, or upright position. It can also be used to hold flasks up to 1-liter without clamps. The rack consists of a 2-tiered grid of springs. The distance between the racks is adjustable so as to accommodate tubes and flasks of different heights. It is mounted on to the platform by four screws.
GYROMAX is a trademark of Amerex Instruments, Inc.
For shaker accessories, click here.
GYROMAX™ 787 and 787R Orbital Incubator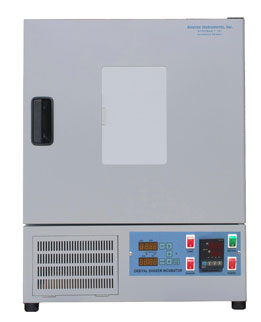 GYROMAX™ 787 and 787R Specifications