HGD-113, AND HGD-133
---
The HGD-113 and HGD-133 of the HG series offer a drying cycle using heat and a vacuum. They are self-contained, and do not need any plumbing for installation, Both models are suitable for liquids and solids without or with drying by heat and a vacuum pump. For solid loads such as racked pipette tips, the vacuum pump is also used in a pre-vacuum stage during which air is evacuated from the chamber at the start of a cycle, thereby providing a most efficient and faster sterilization compared to other autoclaves without a pump. The models also incorporate a steam generator. Features include:
Automatic Lid Opening Button replaces a foot pedal.
Automatic Lid Closing Button closes lid conveniently and safely.
Safety Interlock senses pressure and temperature and prevents lid from opening during a cycle, when the chamber is pressurized, and when the high temperature can cause boil over.
Programmable Auto-Start for running a cycle from 1 to 99 hours later.
Large (15 liters)/ Efficient Steam Condenser ensures no steam exhausts into the lab.
Built-in Steam Generator
Built-in Cooling Fan for faster post-sterilization cooling and shorter completion time.
Selectable Rate of steam venting after sterilization.
Programmable Time for air removal before sterilization.
Twelve Programs Cycles can be stored.
For autoclave accessories, click here.
Self-Contained, Portable Top-Loading Autoclave with Drying Cycle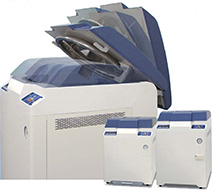 HGD-113 and HGD-133 Specifications